Lula Mische Freshman Scholarship Fund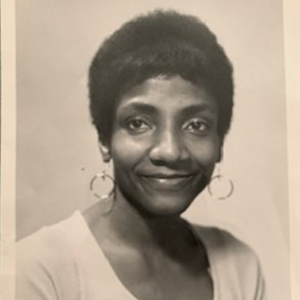 Created by Lula's husband, Wilfred Mische, this scholarship fund at St. Cloud State University in St. Cloud, Minnesota is intended to support students who have overcome obstacles such as socioeconomic or educational disadvantages or disabilities, or are the first generation in their family attending college and members of groups that are underrepresented at the university, such as African Americans.
And, perhaps most importantly, as the documents creating the Lula Mische Freshman Scholarship Fund articulate:
"This scholarship was established by her husband, Wilfred, to inspire freshman students to be good scholars, to pursue their dreams and to interact with others from their heart."
A Note From Executive Director, Erich Mische:
Born in a Minneapolis hospital, and raised in Burnsville until I was 10 years old, my family moved to Fairmount, North Dakota in 1973.
My worldview was white.
Until college when I decided to enroll at St. Cloud State University.
Which is where my personal journey of discovery of my Aunt Lula, and the real world I would soon live in, began. She worked in the university placement office and Lula was a presence that was far bigger than her height which was smaller than most but made her larger than life. Becoming a student at St. Cloud State University transformed the purpose, meaning and trajectory of my life.
My Aunt Lula played a significant role in that transformation.
I was suddenly surrounded by people who weren't all white.  Taught by teachers who weren't all white.  Talking to people who weren't all white. Not that St. Cloud, or the University, were a bastion of diversity in 1981. It wasn't.
But for a kid who grew up in a white suburb and then a white small town and then a white slightly larger town the experience of going from a place surrounded by white people to a place where there was clearly a visible and active presence of black people began to change my view of the world outside of my comfort zone. Then there was my Aunt Lula.
The first African American person in my life who was more than someone I saw in passing or greeted on my way from one college class to another. Lula was active in DFL politics.  She was active in union politics.  She was active in university life. Lula was active in everything that she thought was going to change the world.
The more I got to spend time with Lula, having to go over to the placement office and ask her for advice, and, often just to go visit, the more I got to know about my Aunt Lula.
Yet, where I learned the most about her, and the most from her, was our time together in DFL politics.
It was there I learned the quiet, and not so quiet, passion she carried with her to right the wrongs of American society.  Where she could find a way to build coalitions to seek change that she believed to be needed.
Long before the fierce urgency of now became a rallying cry my Aunt Lula was fiercely urgent about everything. She did not suffer fools gladly. At times I could be a fool. Not out of any ill will but out of ignorance.
And she didn't allow my ignorance to prevent me from learning something about the world around me.
Lula may have been my Aunt, but I didn't live in her skin.
I didn't live in her world. We were family by marriage but her life experience and the journey that brought her into my life was far different than the journey that brought me into her life.
Side by side, the two of us could work equally hard. Study equally long hours. Sacrifice equally for the good of our family. Contribute equally to our community.
But, no matter what, more often than not, the color of my skin would never get in the way of achieving my piece of the American Dream.
That there is a shared journey each of us have as citizens of this nation.
Some of us have found ourselves traveling against the stream in that journey. Others downstream.
But, all of us, in some way, have been on the same river of hope in America.
All of us are on a river of hope in this boat we call America.
All of us must find a way to travel together.