Founding Story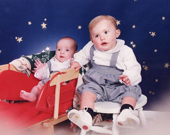 Patsy and Robb Keech were first-time parents, proud to welcome their newborn son, Derian, into the world. Shortly after Derian's birth, they found out he was born with a genetic birth defect that would forever change how they viewed and lived life. Derian endured many hospitalizations – six major surgeries and five open-heart surgeries in the first two years of life.
Patsy and Robb were torn between wanting and needing to be with Derian as he faced his uphill battle to survive and going to work in order to maintain financial stability. The choice to go to work to avoid losing their home or leaving their critically ill son was tormenting. In the end, they chose their son.
Patsy and Robb were not alone on this journey. Their family, friends, and even strangers raised money during this crisis to pay their mortgage so they would not lose their home. This generosity alleviated stress and anxiety and made it possible for Patsy and Robb to spend precious time with Derian until the day he passed.
Patsy and Robb vowed to help other families facing similar situations. Spare Key was founded in 1997 in memory of Derian, a courageous little boy who faced his many surgeries with a joyful spirit.