Bounce and not Break 5K — Sunday, August 19th, 2018
The Bounce and not Break 5K is presented by TitleSmart, Inc.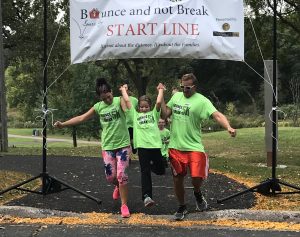 This unique 5K course put's a twist on your typical 5K. With a course full of various bouncing elements, obstacle courses, and a giant inflatable finish, this race is fun for all ages! AND, just when you think all the fun is done, join us after the race for free food and beverages.
Location - Phalen Park
1600 Phalen Dr, St. Paul, MN 55406
Race Details - Sunday, August 19, 2018
Please email Kristi if you have questions: kristi@sparekey.org
Spare Key is a 501(c)(3) non-profit organization dedicated to providing housing grant assistance to families in Minnesota, North Dakota, South Dakota and Wisconsin who have a child that is critically ill or seriously injured in the hospital. Whether it's a fight against cancer, a struggle with a mental illness, or overcoming complications from a birth defect, chronic disease or premature birth, we've been counted on by thousands of families to help them "Bounce and not Break."