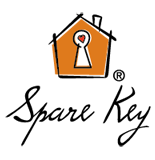 JEN HOLUBAR JOINS SPARE KEY AS DIRECTOR OF PARTNERSHIPS, COMMUNICATION AND DEVELOPMENT
Rochester native joins organization as it continues to grow and expand its mission to help families with rental and mortgage grant assistance
(Minneapolis)  Jen Holubar, a Rochester, Minnesota native and former Sales and Community Relations Director for the Rochester Honkers Baseball Organization, has been hired by Spare Key, www.sparekey.org, as its Director of Partnerships, Communication and Development.  Most recently with Target Corporation, Holubar will be responsible for leading the organization's efforts to increase resources as demand for its services continues to grow.
"In 2012 Spare Key served 209 families in Minnesota.  In 2013 we served nearly 500 families, with the most significant increase coming from Minnesota," said Erich Mische, Spare Key Executive Director. "In 2013 we also expanded into Wisconsin, North Dakota and South Dakota, as well as made renters eligible to receive our grant assistance.  Jen's role will be to ensure that we can continue to serve more families by developing creative new ways for us to access new donors, increase current donor capacity and regain lapsed donors back into our mission orbit."
Spare Key provides families with critically ill or seriously injured children in the hospital with a rental or mortgage grant to allow them to focus more time on their child's care and recovery, and to provide temporary financial support during a child's medical crisis.
"Spare Key's mission spoke to me many years ago when I supported their efforts in Rochester during an event that helped raise funds for the organization," said Holubar. "To be able to come full circle to support Spare Key in this role is exciting and humbling.  I am committed to focusing on raising the resources Spare Key needs to continue to serve more families."
The Spare Key Board of Directors approved an expansion plan in 2014 that will have the organization filing registration papers in seven additional states.  While there are no current plans to begin accepting applications from the states – Michigan, Illinois, Nebraska, Iowa, Missouri, Kansas and Oklahoma – the organization is strategically focusing on identifying new supporters to be prepared to offer its mission as soon as possible.
###