Private group helps families 'bounce and not break'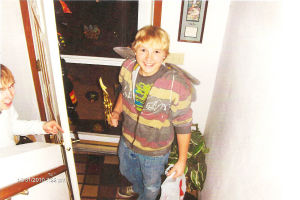 This past Mother's Day became the last day for Jerrie Emory to look into the eyes of her son, Morgon.
Morgon, 18, passed away that day after an exhaustive, nearly 3-year battle with leukemia and other medical complications. Around 6 a.m. that day in May, Jerrie, 46, had been giving Morgon his usual round of medication when the end suddenly came.
"He opened his eyes and looked at me and he kind of winced, which was a good indication that he was having pain," she said. "I said 'did you hit your pain button?' and I helped him. He went back to sleep and then that was the last he opened his eyes."
The weeks before Morgon passed, however, were made somewhat easier to bear with help from Minnesota-based Spare Key, a privately funded organization that granted the Emory family a month's payment to cover the mortgage on their Rapid Valley home of the past eight years.
Although a seemingly small contribution, the help was monumental. The money gave them the needed boost to shift their focus from mounting bills to allowing Morgon the creature comforts that only a close family can provide.
"You want to be able to focus 110 percent of your energy on your child because you just don't know," Jerrie said. "It came at just the right time."
Spare Key was founded in 1997 by Robb and Patsy Keech as a way to "pay it forward" after their 2-year-old son died from a chronic heart condition. The organization offers a once-a-year payment of up to $800 for rent or $1,000 for mortgage payments, which are available every year that a family qualifies for help.
The group expanded to South Dakota, North Dakota and Wisconsin in mid-2013. Group director Erich Mische was in Rapid City and elsewhere across the state last week networking and visiting families who had reached out for help.
"We use the phrase 'we help the family bounce, and not break,'" Mische said. "All of our money is private money. We use no public funds. We help the poorest of the poor to middle- and upper-income families. It doesn't matter what the illness or injury is."
To qualify, a family must have a child 18 or younger who has been hospitalized at least 14 out of 90 days. Whether the family rents or owns a home, it must be current on its payments but demonstrate a substantial reduction in income or increase in expenses.
"It takes literally 10 minutes or less to fill out the application," Mische said.
He said the program works mainly by word-of-mouth from hospital social workers, where the Emorys had first heard about the assistance.
Morgon was diagnosed with leukemia at 15 years old in August, 2011, at the start of his sophomore year at Rapid City Central High School. So the mother-and-son duo set off to Minneapolis where Morgon began chemotherapy by September.
Over the next three or so years, Jerrie and Morgon would become inseparable during repeated extended stays in Minneapolis as Morgon underwent treatment.
"We were more than mother and son," Jerrie said. "We were best friends. We were all each other had in Minneapolis."
Mark Emory, 50, Morgon's father, had to stay in Rapid City to keep the family fed and under a roof, but made the journey east whenever possible, especially when dire situations called for his presence.
At first, the treatment was cut-and-dry and things seemed hopeful for Morgon, then a 15-year-old aspiring musician, Jerrie said.
"From induction chemotherapy on, Morgon was leukemia free," Jerrie said. "He never had any evidence of leukemia having returned."
But an apparent adverse reaction to his initial treatment left Morgon in intensive care and diagnosed with neutropenic colitis, a life-threatening gastrointestinal disease that may have resulted from his chemo treatments.
"It seemed like from that point on, things just went completely downhill," Jerrie said.
Two components of Morgon's leukemia made it an extremely aggressive form of the disease and prompted doctors to undergo a bone marrow transplant. By December 2011, he still wasn't well enough for the procedure and doctors remained perplexed as to why Morgon had reacted so badly.
At that time, medical staff found that his intestines had become severely inflamed, and they decided to remove a portion of Morgon's colon. In late-January 2011, he underwent radiation therapy and then the bone marrow transplant, despite his ill health for fear the leukemia would return.
"And from that point, I think we just thought everything was going to get better," Jerrie said. "I couldn't get any worse than it had been. It was going to get better. He was never really all that well but he got well enough, his counts and everything were good, and they discharged him from the hospital."
On the last day of the school year in Rapid City, Morgon returned home from Minneapolis in May 2012 after a 9-month stay at the hospital.
"So we finally got to come home, though, and be a family again," Jerrie said. "I couldn't even tell you how many times we had to go back, but we were back and forth from Minneapolis to here a lot."
But it would never be for good until Morgon ultimately decided that he wanted to live out his life at home after more than another year of ups, downs and several surgeries and even more complications with his worsening health.
"He returned to our heavenly home at peace," Jerrie said. "He was sleeping and that was exactly what he wanted. He wanted to sleep and not wake up. To me that was probably the greatest thing; he went the way he wanted to go."