Over the years a variety of groups, families, and individuals have organized events to benefit Spare Key. Some of the events take place once, while others have become an annual tradition — but they all make it possible for Spare Key to help families in Minnesota, Wisconsin, North Dakota, and South Dakota care for their seriously ill or critically injured family member.
If you are interested in hosting an event to benefit Spare Key and the families we serve, please contact Mary Serie by phone: (952) 406-8872 or email: Mary@sparekey.org.
Our Hosted Events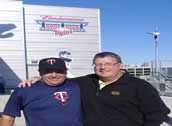 Bell Mortgage hosted the Budweiser Rooftop Deck at a Twins Game to raise funds for Spare Key families – approximately $8,000!
The Work Connection Erica Martin proudly presented proceeds from their "Casual Wednesday" fundraising campaign to Anne Bomstad Miller.