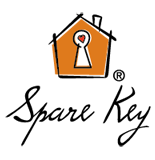 SPARE KEY BEGINS ACCEPTING
BITCOIN ON ITS WEBSITE
Not fully understanding how it works doesn't deter the non-profit from
encouraging those that do to donate Bitcoin to its program
(Minneapolis, MN) Spare Key, www.sparekey.org, a Minnesota-based non-profit that provides rental and mortgage grant assistance to Minnesota, North Dakota, South Dakota and Wisconsin families with seriously ill or critically injured children in the hospital, announced today that it will begin accepting Bitcoin on its website.
Wondering what Bitcoin is?  So, too is Spare Key Executive Director Erich Mische who spent the better part of a weekend trying to figure out what exactly it means to Spare Key.
"Near as I can tell Bitcoin is a virtual form of currency.  The value of the currency is dependent upon the value that is assigned to it," said Mische. "I think."
According to the website, www.gizmodo.com , "Bitcoin is not real money. It's an online "currency"—virtual tokens that can be exchanged for goods and services at places that accept it, the same way you'd give someone a dollar for a cookie…"
Mische says that Spare Key is using a service called BitPay.  According to BitPay's site, "BitPay is an electronic payment processing system for the bitcoin currency. We enable online merchants to accept bitcoins, as a form of payment, just as they accept payments from Visa, Mastercard, or Paypal."
Mische says that accepting donations via Bitcoin is just another way Spare Key seeks to diversify its funding opportunities.
"If the only things we did to raise funds for Spare Key were those things that made absolute sense to us, we'd be in big trouble," explained Mische. "While I have a general concept of how Bitcoin works I am depending on those donors who grasp its potential and are using it to help educate us through their generous donations of Bitcoin, and maybe come spend an hour or more with me over a cup of coffee and help me figure it all out."
Donors wishing to use Bitcoin (as well as regular money, credit cards and checks!) can go to www.sparekey.org/donate to make a contribution.
Spare Key, www.sparekey.org, is a registered 501 ( C ) (3) with a FEIN of 41-1888767.
###