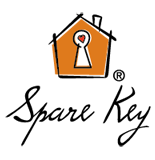 Spare Key, ClickBid and Moolah team up to accept crypto currency at "Groove" Gala
Emerging new currency gaining traction with Minnesota non-profit
(Minneapolis, MN) Spare Key, www.sparekey.org, a Minnesota-based non-profit that provides rental and mortgage grant assistance to families with critically ill or seriously injured children in the hospital announced today that it will launch a major new initiative involving crypto currency.
A unique partnership with Spare Key and two other companies, ClickBid and Moolah, will allow attendees to Spare Key's annual gala, The Groove, to pay for their winning bids with four different forms of crypto currency – Bitcoin, Dogecoin, Litecoin or Vertcoin – as they collect their winning items.
The Groove Gala, presented by Black Knight Financial Services, takes place on Saturday, March 1st at Aria in Minneapolis features nearly 600 attendees, music by Boogie Wonderland and Eric Perkins of KTWIN 96.3 as Master of Ceremonies.
In addition, online bidders at www.sparekey.preclickbid.com/services-2-2 will also be able to pay for winning bids using crypto currency.
"We're thrilled to be early adopters of this currency in a way that we believe can expand our platform of donors and strengthen our capacity to serve more families," said Erich Mische, Executive Director of Spare Key. "ClickBid and Moolah are innovators in their field and we believe this partnership is going create a new paradigm for non-profit fundraising."
Moolah, www.moolah.ch/about, is a cryptographic payments platform seeking to bring the simplicity and security of online banking to consumers, and the support, security and (sometimes) extensive features of traditional payment gateways to merchants. We are strong believers in cryptographic payments and hope that some merchants will retain cryptographic currencies as opposed to converting automatically to FIAT.
"Our goal is to advance crypto currency in a way that shows its seamless utility in day-to-day life, "said Alex Green, Founder of Moolah. "Spare Key and ClickBid offer us a way to not only support a great charitable cause, but to make it clear that this currency will play a unique new role in supporting the efforts of non-profit organizations."
ClickBid, www.clickbidonline.com/home, was started in 2002 to add a level of style to silent auctions never before utilized. We had the goal of allowing guests to bid from multiple locations at a venue instead of just one. As we started building the basic elements we discovered that ClickBid could do so much more than just add a "cool factor" to a silent auction event. It allowed guests to bid on multiple items at the same kiosk, increasing silent auction totals that had previously gone stagnant.
"We are innovators," said Matthew Burnell of ClickBid. "We started the online bidding movement, and we are industry leaders.  We've had a long-term relationship with Spare Key and this strategic partnership with Moolah is something we're pretty excited about."
Individuals wishing to pay for their winning auction items will be able to go directly to a link when they check out which is located at www.sparekey.org/donate
Spare Key began accepting crypto currency a little more than a month ago and has seen a steady increase in donations from the currency.
According to Mische the mid-range plan is to identify vendors that will accept the currency as payment for rent or mortgages.
"In the end we are focused on expanding the range of the merchant potential of this currency for Spare Key," said Mische. "We hope to find companies that hold mortgages or landlords or rental management companies that will accept crypto currency as legitimate form of payment from Spare Key on behalf of the families we serve."
###