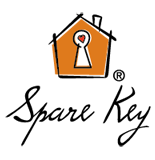 AMY KAMENICK APPOINTED TO
SPARE KEY BOARD OF DIRECTORS
Senior Digital Manager at Weber Shandwick to help organization expand development and social media platform
(Minneapolis) Spare Key, www.sparekey.org, announced today that Amy Kamenick will join the organization's Board of Directors effective immediately.
Spare Key provides rental and mortgage grants to families with critically ill or seriously injured children in the hospital in Minnesota, North Dakota, South Dakota and Wisconsin.
Since 1997 the organization has provided housing assistance to nearly 2,200 families totaling almost $2.2 million.
In 2013 the organization expanded to North Dakota, South Dakota and Wisconsin and in 2014 will be filing registration papers in seven additional states to provide grant assistance program in the near future.
"Spare Key is not only unique for the safety net it provides families and children during a time of great need, but also for its creative and innovative approach to fundraising," said Kamenick, senior digital manager with the Minneapolis office of Weber Shandwick, a global digital marketing and public relations firm. "I'm excited to help Spare Key leverage digital and social platforms to tell its story and connect with new donors and advocates."
###